Some friends who moved to a new place asked us over for a housewarming dinner yesterday. I was super stoked, but a little nervous because they asked us to bring a dish. I walked into the kitchen and looked around and thought to myself, "What the heck are we going to bring!?" As if a yummy dish of some sorts was going to magically appear before my eyes simply because I was willing it to. *sigh* Normally I would have left the matter up to Sammy, but because I have vowed to make more of an effort to cook (or try to cook), I told Sam I would handle it. You're proud of me already, aren't you? You haven't even seen what I came up with!
Cheesy Chicken and Rice Casserole.


1 can (5 oz.) chunk chicken
(I used about 6-7 oz chicken breast cooked stove top in vegetable oil and garlic salt)
1 can chicken and rice soup
Salt and pepper to taste
(I just used pepper)
1 can cream of chicken soup
(I used cream of celery soup)
1 1/2 c. grated cheddar cheese
2 c. cooked rice
1/2 c. Ritz cracker crumbs

1. Mix chicken, soups and rice in greased casserole dish.
2. Bake at 350 degrees for 15 minutes.
3. Take out and top with cheese and cracker crumbs.
4. Place back in oven for 10 minutes.
Super simple recipe I found in seconds online at cooks.com.
After consulting with Sammy how to make rice and telling him quote, "I hope I don't fuck it up" lol I made the dish without any mishaps. And you know what, it was actually fun. Shocking!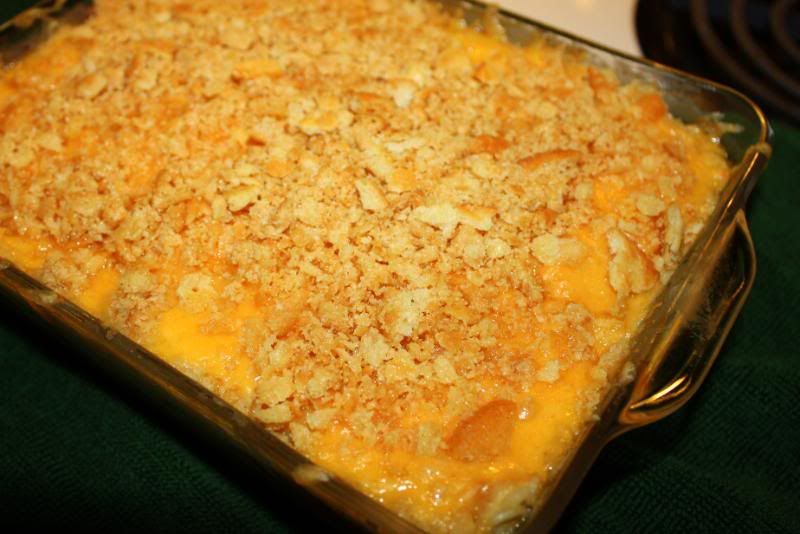 The housewarming dinner went well and everyone seemed to like my dish. I didn't see anyone gagging on it anyway. :) Sammy told me it's definitely one he'd like me to make again. I told him sure thing, since I now know how to cook rice. YAY! I thought it was delicious.
With love,
Mama Hauck