I was just saying how I've wanted to get some baby photo props. I've taken photos of a few infants now and with the upcoming baby photo shoot I've got of my friend's little gal, kara, its made me really want some baby photo props.


I thought about it all last night and this morning I decided I just needed to take the plunge and buy some and stop my wishing. So! I got on Etsy, a favorite site of mine, and ordered....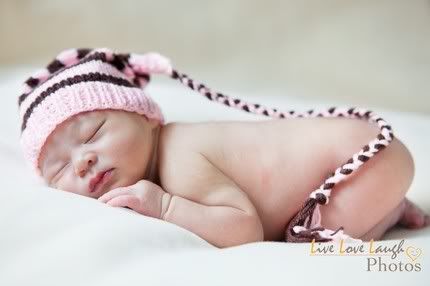 (Photo credit to Live Love Laugh Photos)


....this adorable pink and brown striped pixie hat for $14.00! YAY! I already have a brown/autumn colors striped looking one I've used on a friend's little boy, so this pink one will be perfect for any little gal!


I also ordered....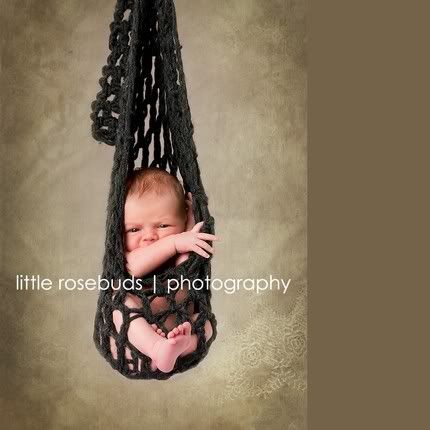 (Photo credit to little rosebuds photography)


....a stork pouch!!!! I got this design in an ivory color for $25.00. I'm super stoked about this buy. Of all the things I've wanted, I've been eyeballing this item the most! I just think it is such a clever idea and will make for some really sweet photos!! I love how little one's tiny fingers and toes and even whole feet can stick through!


Etsy is a fantastic site to buy all things handmade. I love it! The tutu in Molly's tutu photo shoot came from Etsy, as well as the hat she was wearing in the photos. I've also bought a tie for Anthony I plan on using for when I do a photo shoot with him. :)


Other things I wish I had for baby photo props....little baby angel wings, a fringe blanket for placing in baskets and chests and things like that, colored cheesecloth to use as wraps on preggo bellies in maternity photos, knitted "cocoons" that you place baby in and fit them like a glove, BIG plates/bowls/teacups to place baby in/on....ahh the list could go on. :)


Hopefully they get shipped out and to me fast. Kara will be 2 weeks next Tuesday and her Mama wanted me to take her 2 week photos, but I don't really know if she wants them done that day or just in that general time frame. We'll see. Ahh! Excited!


With love,

Mama Hauck