I had a pleasant Thanksgiving at my Uncle's place. It was great seeing my Grandparents, Aunts, Uncles, Cousins, and the two new little baby gals. I wasn't able to do a small photo shoot like I had wanted, but that's alright. I managed to take a few nice ones of each gal with their Mama and Papa.
My cousin Jed and his wife Susan with their baby gal Jillian
My cousin Jennifer and her husband Justin with their baby gal Maya Anne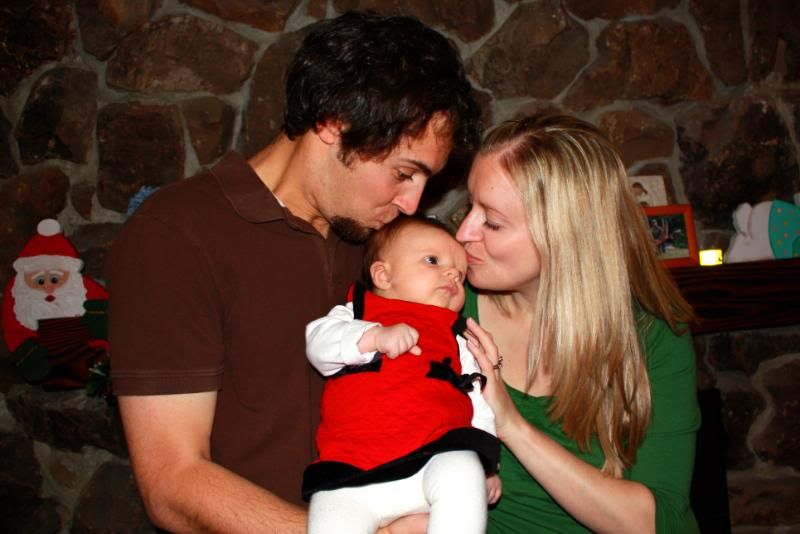 Everyone loved the mac and cheese Sammy and I made and doubly loved the chocolate chip cookies Anthony and I made.
I stuffed my face with tasty smoked turkey, prime rib, stuffing, rolls, mac and cheese, jello, pie, cookies, etc. etc. Anthony and Molly were exceptionally well behaved and I was very proud of them! They both ate like little piggies!
We spent the weekend at my Aunt's place on The Island and managed to visit a few friends and squeeze in a bit of shopping. It's great catching up with people, but I always leave feeling sad. I really miss it there....not just the the handful of friends and family, but the area in general. We headed out early Sunday morning and got home round abouts 1:30. I spent the remainder of the day unpacking, cleaning, and doing laundry....not my idea of a fun evening! But the night was made better when our friend Tim stopped by with a crab for me!! I think I'm going to eat him tonight! Hooray! The last time I had crab was a week before I had Molly. Mmmmm....I can already taste him.
This week I've got to get my butt in gear and finish up working on family Christmas gifts so I can get those boxes out. I also have an appointment for Molly to get a follow up shot tomorrow.....if I decide to brave the ice packed roads that is! I also hope to get over and work with my horse this week too.