The look on Anthony's face when I peeked in his room and told him Santa had come as he was waking up was priceless!!! His eyes lit up when we showed him Santa had taken bites out of his cookies, drank all the milk, and left him and Molly a note! Tehehe! The kids opened their gifts from Santa; Molly got a magnedoodle, Anthony got a tool bag with some tools, and the two of them got a combined gift of a Spongebob coloring book and a Backyardigans dvd set. How awesome is Santa? haha! We all had a quick breakfast of eggs and little cheesy smokies.


Opening gifts was SO FUN! I was surprised at how much Anthony got into it this year (last year he was a little grump, haha) and how Molly picked up on the jist of what was going on so quickly. Both kept trotting over to the tree and grabbing a gift and waited to see who Papa said it went to. We all took turns opening gifts and taking photos while listening to Christmas music. *sigh* I loved watching my babies have so much fun. Their excitement was contagious.

There sure was a lot of loot! Molly got her new bedding, a bean bag chair, p.J.'s, a little pink toy computer, a wooden shape/color learning clock, and new pink eating dishes and silverware....to list a few. Anthony got p.j.'s, play-dough, tons of hot wheels with a car storage container, new blue eating dishes, a wooden magnetic year/activity calendar, and a cool kids camera that he's been having a blast taking photos with (just like his Mama!!)......to list a few. Sammy got two new polos, two new colognes, a huge canvas photo to hang up in his office at work (seeing as he has an office now!) and two metal wall sconces designed with leaves and acorns we hung up on either side of our bed. Mama (that's me!!) got a big flash for my camera, a flash diffuser, and a remote timer!! I had been wanting a timer FOREVER!!! It's hard to press the timer button on my camera then run into the photo, lol. This way I have a remote and can take family photos without running back and forth.


After opening up gifts, Sammy went out to burn all the trash while I cleaned up the house and my mom and sister started getting their things together. The kids ran back and forth playing with all their new toys having a ball, lol. It was so fun to watch them figure out what they wanted to play with! After burning all the trash, Sam came in to prepare the meal we were to have....his special homemade clam chowder and biscuits! Once the chowder was on the stove and cooking, we all settled back on the floor to open our stockings. There was a slew of little gifts (my mom got me some horse brushes and a hoof pick!), tons of Christmas cards, and a few gift cards that I can't wait to get out and spend. :) Aren't The Haucks cute? hehehe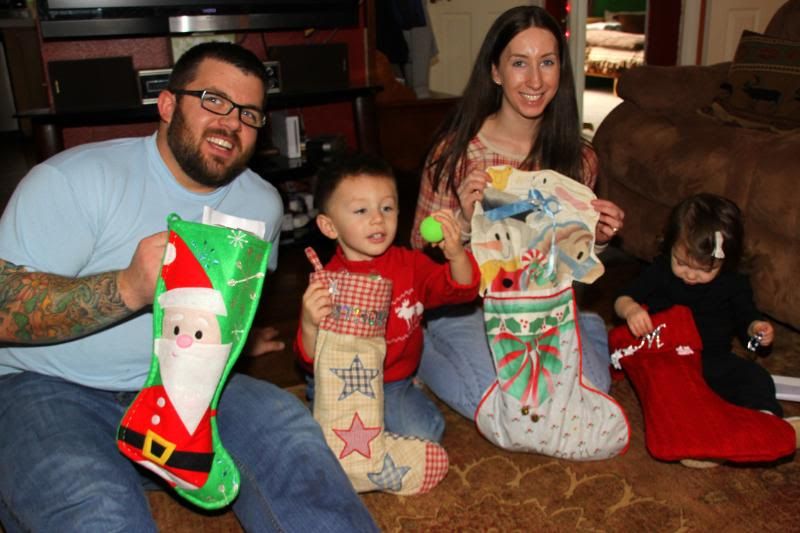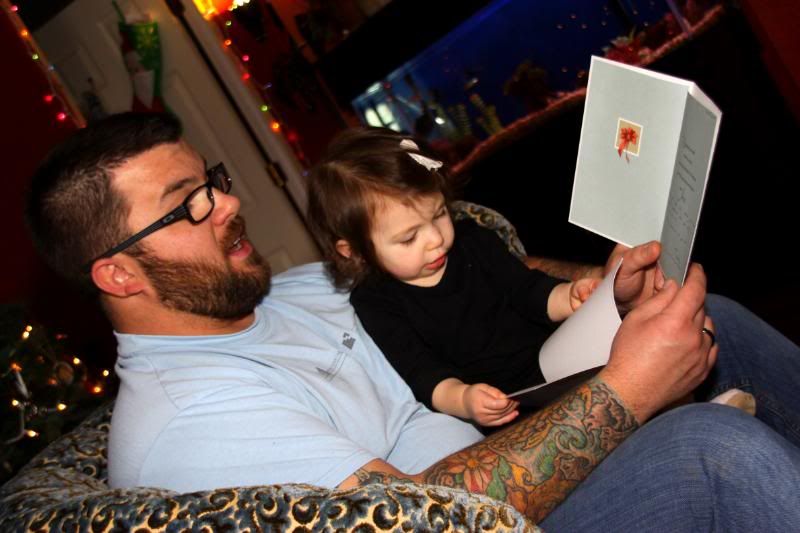 Grandma, along with the Grandparents that couldn't be here with us, each got a special painting the kids and I loving worked on in the middle of our living room! That was a lot of fun and the kids sure did have a blast getting dirty! Along with those they each received a photo book I had made of all those family fall photos I took back in October. Here is one we painted, isn't it cool!?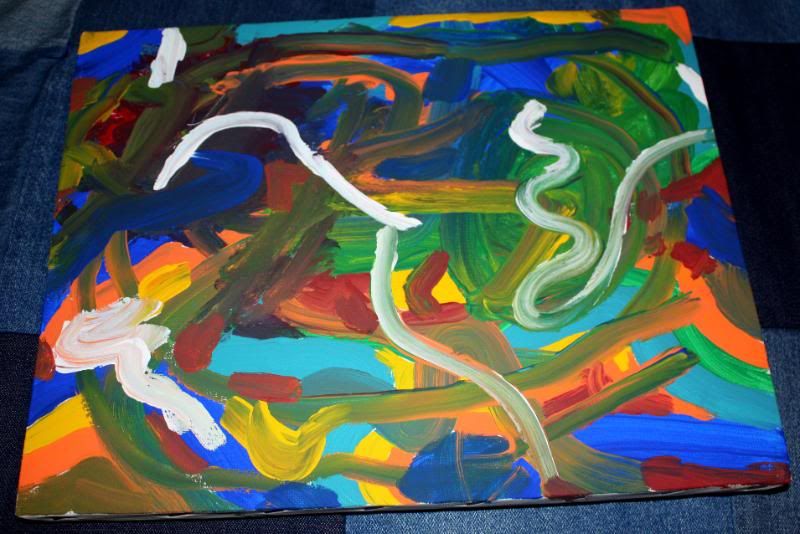 The remainder of Christmas day was spent relaxing, playing, and eating. Chocolate pie topped off our clam chowder and biscuit meal. YUM!! What a wonderful day with my adorably wonderful family!
With love,
Mama Hauck