Molly looks older today for some reason. She looks older today than she did just yesterday.



I went in to get her from her nap and there she sat in the middle of her crib, big beautiful blue eyes looking up at me, grin on her face, hair swooped to the side. She looked older than her 14 months. I can't say how or why, but she did. She just looked older. Just seemed older. I couldn't stop staring at her. I couldn't stop wondering if I had just gotten a glimpse of the little girl to be.....a glimpse into the future.

How incredibly bittersweet.

You know she can wave now. She'll give a little wave and mutter what I believe to be her rendition of bye-bye and then toddle off. She might even stop and look back at you and wave again.

You know what else she does now? She blows kisses. Must have picked it up by watching Anthony and I blow kisses to each other. She puts here sweet little hand up to her sweet little lips and blows. She doesn't follow the kiss through the air with her hand yet, but I don't mind. I know she's directing the kiss my way and that's all that matters.

God I could cry.

And you know how you go, "Shhhh" and put your finger up to your lips? Yeah, she does that too. Though her finger goes in her nose instead of on her lips. Good try though.

And yesterday I asked her to go to the drawer and, "Get Mama a wipe!" and off she goes, heading to the end table that has a drawer with wipes in it. Anthony jumped in front of her and did it himself, so I didn't actually get to see what she would do, but I have no doubts she knew exactly what I wanted and would have done it.

Recently, if you tell her, "No Baby, that's a no-no" she'll put her head down and act as if she's aware she shouldn't have done whatever she was doing. Either that or she is pouting. Sometimes she storms off crying to her room only to return and lay her precious little head on your lap and give you the sweetest grin. As if she could do no wrong and her smile fixes everything.

And when you lay down on the floor, she goes and gets one of her blankies and lays down with you.

She answers to Baby. That's what I call her. When I talk about her, I call her Molly. When I talk to her, I call her Baby. "Come here, Baby." "What are you doing, Baby?" "Anthony, go get Baby." "I love you, Baby."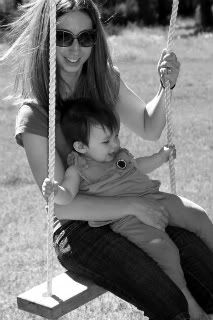 June 28, 2010 Molly's B-day, Photo by my Mama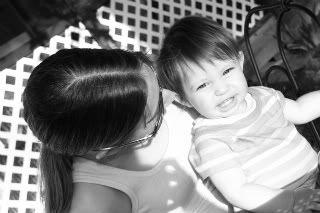 July 22, 2010 Photo by my Mama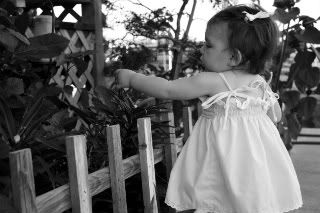 August 14, 2010 Photo by me

Will she be my baby tomorrow?
Or will she be this new Molly I've seen today?


With love,

Mama Hauck